After Hercules returned from his success in the Augean stables, which represents clearing out the Base chakra with a river of energy, Eurystheus came up with an even more difficult task. For the sixth Labor, Hercules was to drive away an enormous flock of birds which gathered at a lake near the town of Stymphalos.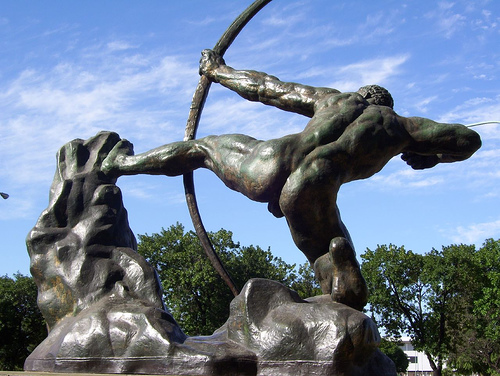 HERCULES ARROWS THE ENERGY BLOCKAGES IN THE CHAKRAS ABOVE THE HEAD - THE STYMPHALIAN BIRDS
Stymphalídes órnithes were man-eating birds with beaks of bronze and sharp metallic feathers they could launch at their victims, and were pets of Ares, the god of war. Furthermore, their dung was highly toxic. They had migrated to Lake Stymphalia in Arcadia to escape a pack of wolves, and bred quickly and took over the countryside, destroying local crops and fruit trees.
As the Twelve Labours of Hercules, from ancient times, has been known to be one of the legominisms of ancient times whereby ancient knowledge on Enlightenment and Illumination has been passed down to the Potentials, the Paduans, - or those people who have been born with just the possibility of becoming enlightened, and leave the sleeping unaffected. So the Sixth Labour - the Stymphalian Birds represents the necessity of removing Energy Blockages above the head.
Arriving at the lake, which was deep in the woods, Hercules had no idea how to drive the huge gathering of birds away. The goddess Athena came to his aid, providing a pair of bronze krotala, noisemaking clappers similar to castanets. These were no ordinary noisemakers. They had been made by an immortal craftsman, Hephaistos, the god of the forge using the power of the sun.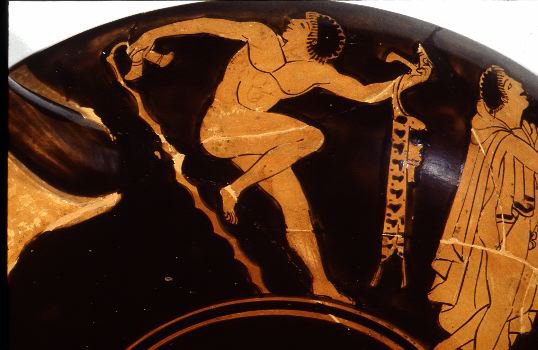 Hercules clashed the krotala loudly
Climbing a nearby mountain, Hercules clashed the krotala loudly, scaring the birds out of the trees, then shot them with bow and arrow, or possibly with a slingshot, as they took flight.
Remember the Krotala was made In the Fusion forge of the sun.
We need some way to find the blockages above the head. The seven step process of Energy Enhancement can perform that function even for people who have not, as yet, developed Psychic Vision. Remember, "Yoga is the development of Psychic Vision"
Te read more about Chakras & Blockages Above & Below The Head,
click here
.